Why is Fly Fishing so Expensive?
September 7th, 2022
Fly fishing has a reputation of being an expensive activity, and it certainly can be. But, as is often the case, there's much more to the story.
You can spend huge amounts of money on virtually any hobby, whether it's mountain biking (can you say $20,000 bikes?!), bass fishing (boats and gear), or hunting (guns and travel). But, every market niche has products available across a wide spectrum of pricing.
My point is, you can fly fish affordably. I've spend countless hours on the water and can attest to this fact.
In the below article, I'll explain how you can save money on gear, what's worth splurging on, and what's not. In the end, you'll realize that anyone can go fly fishing with very little cash spent. It'll surprise you.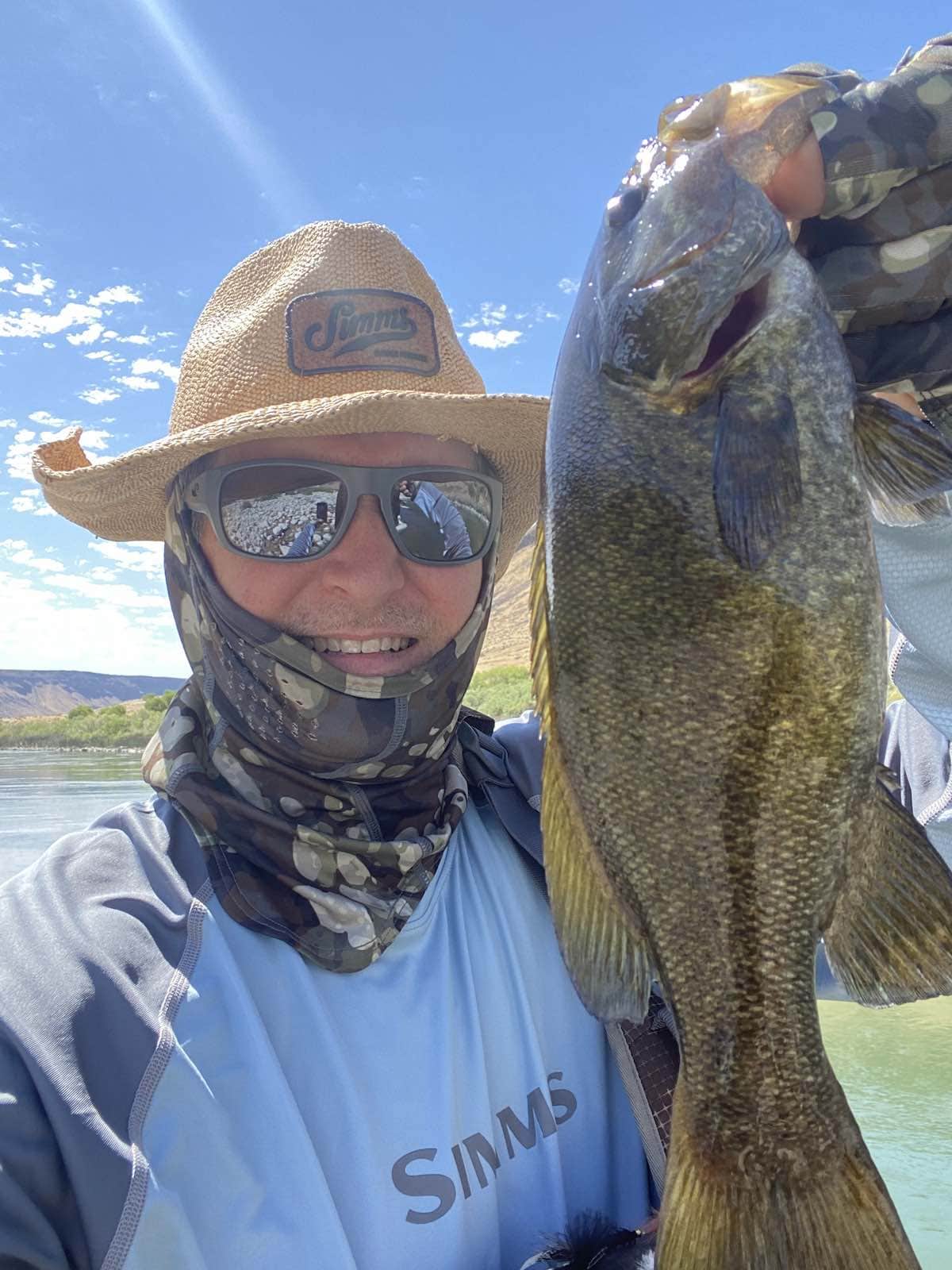 In the above picture, I'm holding a nice smallmouth bass that I caught while fly fishing with relatively inexpensive fly gear.
Why is Fly Fishing so Expensive?
The truth is, fly fishing doesn't have to be expensive.
If you're operating on a budget, you can set yourself up with an affordable fly fishing setup, including a rod, reel, fly line, leader and tippet, flies, nippers, rod and reel case, and fly box for under $100. You can find this complete setup here.
In fact, this is exactly how I got started in fly fishing years ago. I'd been a lifelong bait and spin fisherman, but I wasn't sure about fly fishing. So, I bought a cheap setup to test it out, so to speak.
My logic was, if I like fly angling, I'll buy a better setup in the near future.
And that's exactly what I did.
I used the inexpensive fly rod and reel setup to cast on my pond, and in local streams. Sure enough, I was hooked.
But, you don't need to spend a ton once you decide you're a bona fide fly angler. Once you're ready to upgrade, I highly recommend the Reddington classic trout rods as an affordable option that you can use for decades. It's a high quality rod at an unbeatable value.
The Truth About Fly Reels
Fly reels, for all intents and purposes, are a bit of an afterthought for most freshwater anglers.
The reason is, if you're fishing in ponds, creeks, and rivers, you'll very rarely need to put a fish "on the reel." Instead, you'll strip the fish in. (This means you pull the line in manually rather than reeling.)
So, most freshwater fly reels are often ornamental. That's the simple truth, but not many fly anglers talk about it.
Let me give you some context.
Out of the +/-1,500 fish I've caught this year, the majority of which were brown and rainbow trout, I could count on two hands how many times I've had to put a fish onto my reel.
This is a perfectly capable and affordable fly reel that many fly anglers use today.
If you're fly fishing for big fish, like carp and muskie in freshwater, or snook and redfish in saltwater, you'll want a reliable reel and drag system. It's worth spending a little more in these types of instances.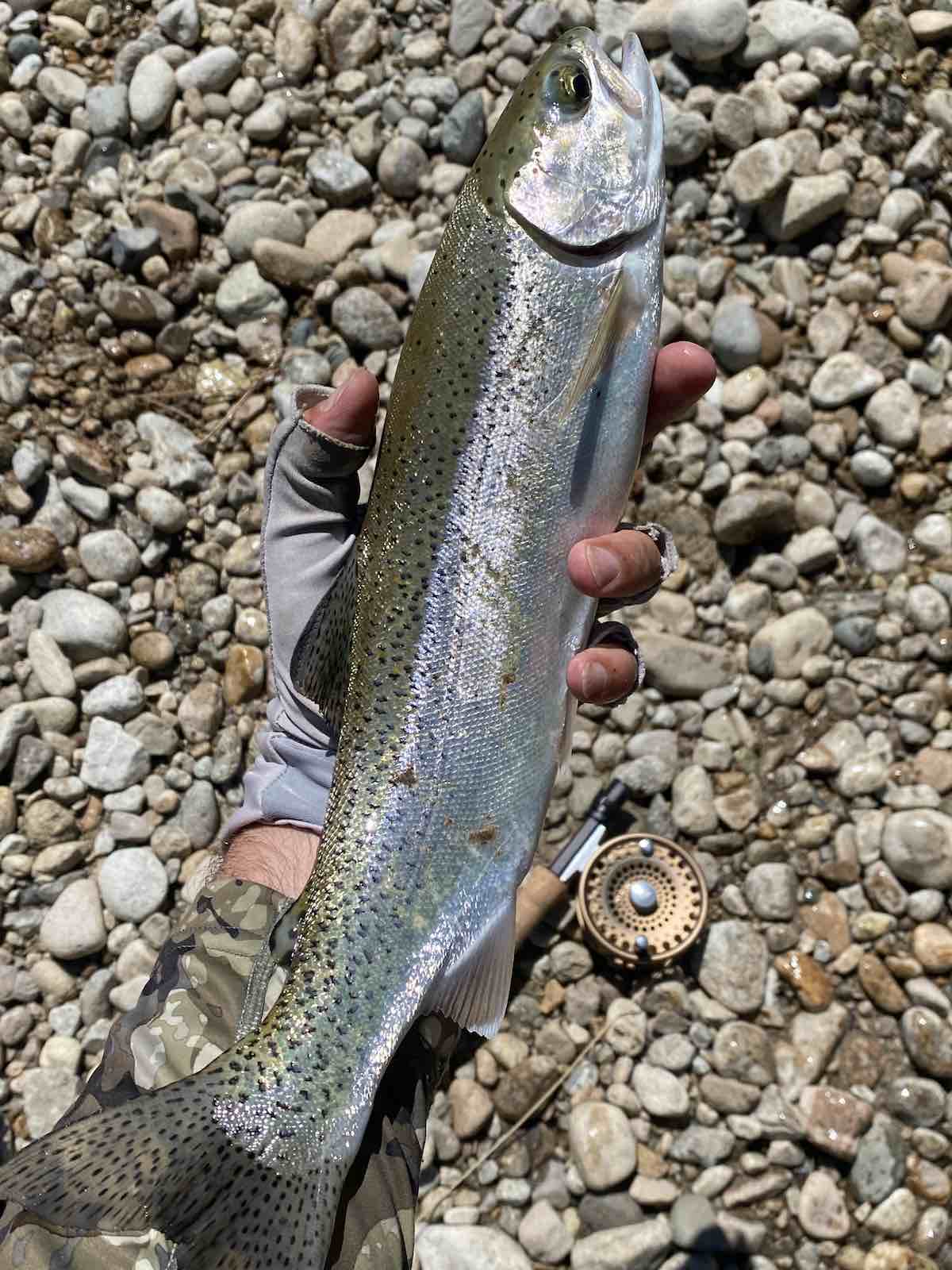 This rainbow trout (Oncorhynchus mykiss) was one of the few fish that took out noticeable line from my reel. Rainbows can pull hard and they can go on long runs. The reel you see in the background is a Sage Trout reel.
Affordable Fly Line
If you peruse the Rio or Orvis fly lines online and see the price tags of $100+, don't despair.
You can get perfectly castable fly lines online for a fraction of the cost. Now, I'm not going to mislead you–I personally use high quality lines, but my point is, if you're new to fly fishing you may not want to spend a lot initially.
Super affordable fly lines such as this one by Scientific Anglers will serve you well until you decide to upgrade your gear.
One thing to watch out for with floating line (versus sinking line) is that you should avoid nicking or stepping on it, because if it develops cracks or holes, it'll start sinking.
Keeping your fly line clean and slick is very advantageous. Check out my article about cleaning and dressing fly line for details.
Summary
Hopefully I've been able to convince you that it isn't necessary to shell-out big bucks for name brand fly fishing equipment, whether you're a beginner or an expert.
I'd recommend you start out with some inexpensive gear, and try out fly fishing. If you end up enjoying it, you can upgrade your equipment once you determine your preferences (faster action, slower action, etc).
Then, save your initial setup as a backup, which will very likely come in handy someday.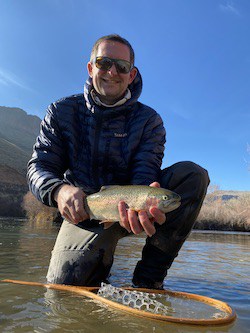 About the Author
My name's Sam and I'm a fly fishing enthusiast just like you. I get out onto the water 80+ times each year, whether it's blazing hot or snow is falling. I enjoy chasing everything from brown trout to carp, and exploring new waters is something I savor. My goal is to discover something new each time I hit the water. Along those lines, I record everything I learn in my fly fishing journal so I can share it with you.