The Best Fly Fishing Slingpack
October 26th, 2023
I've spent thousands of hours fly fishing, and I've used various slingpacks and backpacks over the years. I even tried a waist pack for a while. Each pack had its pros and cons, but one consistently stood out as the best. I continue to try new slingpacks, because I'm always open to new products, but I always end up coming back to one in particular.
In this article I'll reveal to you which slingpack I've found to be the best, and I'll explain to you exactly why. I'll also show you other packs I've used, their best features, and my pet peaves about them.
It's important to mention that I'm not partial to any particular brand or manufacturer. I've got fly fishing gear from Orvis, Simms, Filson, Skwala, Fishpond, Patagonia, etc.
Full disclosure: I've fly fished with each of my slingpacks for at least 75 hours, and will explain to you specifically what I liked and didn't like about each one.
And with that, let's get into the review!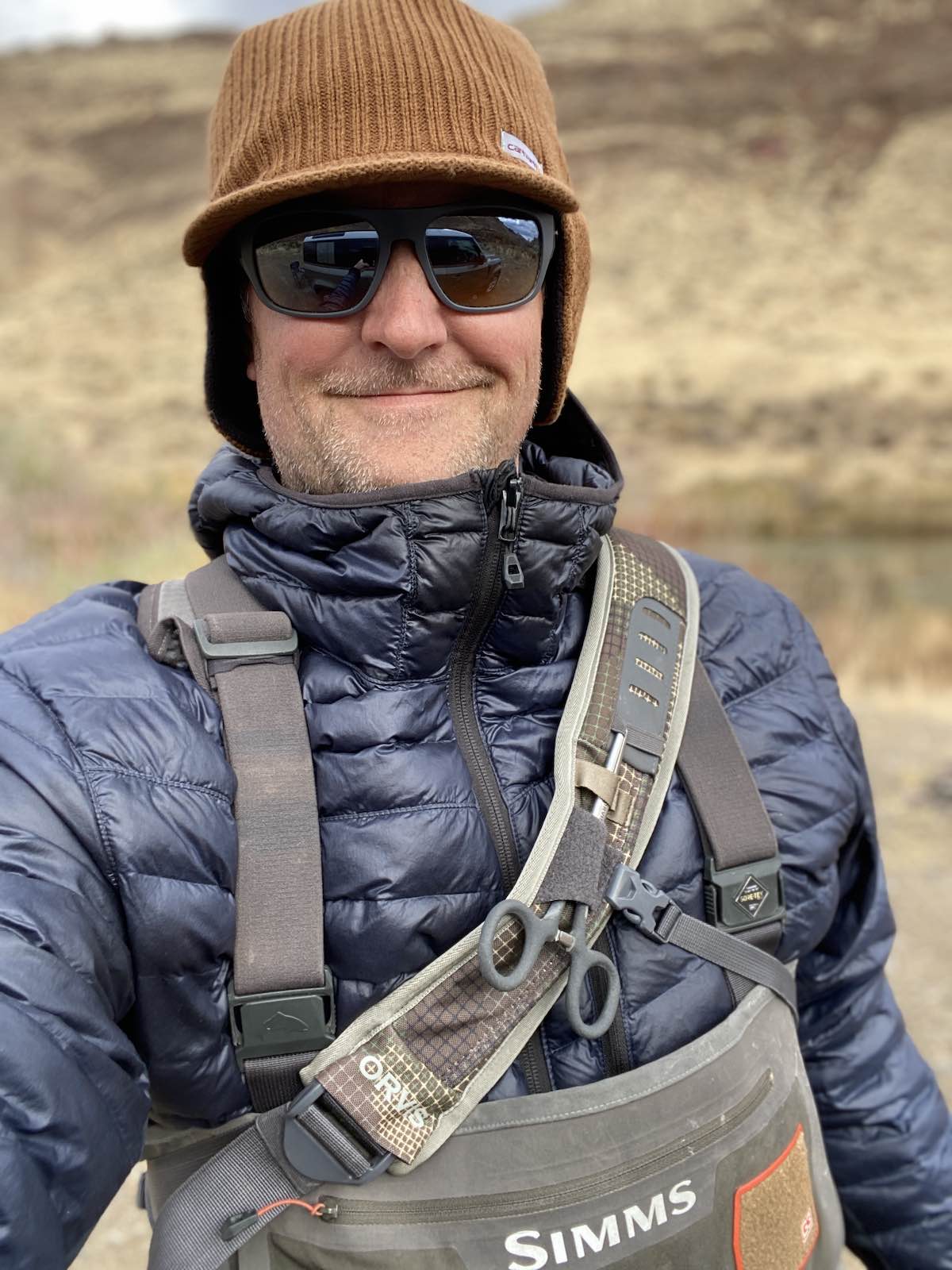 Here I am about to hit the water to catch some trout. I've used and tested quite a few different slingpacks over the years, and I'm going to share with you my findings.
The Best Fly Fishing Slingpack I've Found
The Orvis Guide slingpack is the best I've ever used, and in my opinion there's nothing even close to as good. If you're considering buying a slingpack, I highly recommend it.
Let me explain exactly why.
Inset Tippet Holder
One of my favorite features is the inset tippet holder. It's such an elegant solution, and it works so smoothly. Orvis calls this their "patented Tippet Whippet recessed docking station."
Generally speaking, with most slingpacks or backpacks, you simply attach a tippet bar (aka tippet holder) via a clip. The tippet bar then swings freely, along with anything else you have attached to your pack.
Then when you need tippet, you have to stabilize the bar while you remove tippet. This means using both hands–one to stabilize the bar, and one to pull-off tippet.
When your tippet bar is inset, however, it's automatically stabilized and you can easily pull-out tippet with one hand. It sounds simplistic, but trust me, it makes a difference. It's a nice luxury.
The tippet bar comes with the slingpack, so there's no need to buy one separately. It can hold six spools.
Here's a picture from my pack.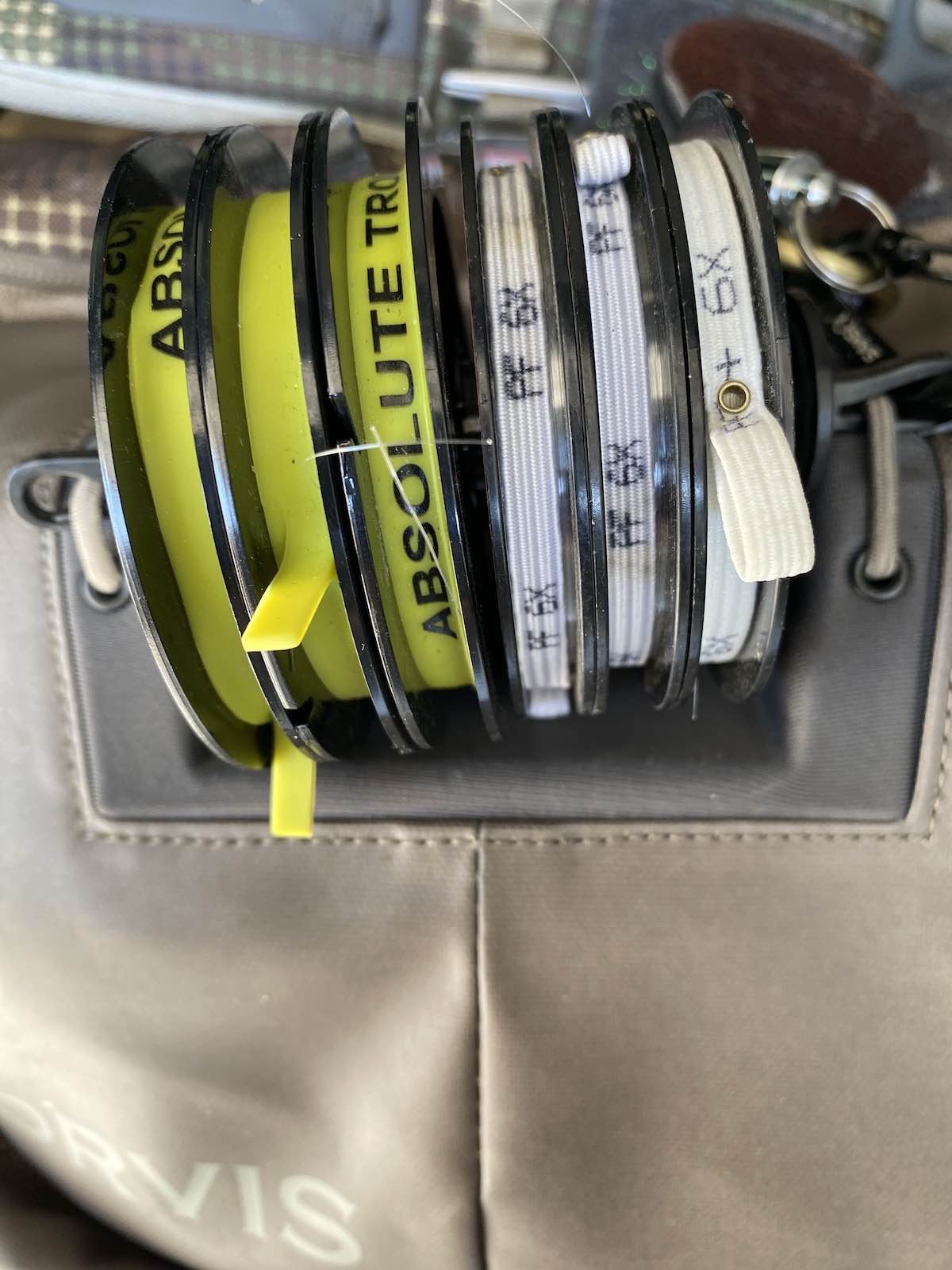 Zinger/Nipper Access
Most fly anglers simply attach their line nippers to their slingpack, chest pack, or vest using a clip. This is fine, but once again Orvis has a more advanced solution.
They've included a specially designed nipper access slot. So, you actually affix your zinger to a spot inside one of the pockets, and the nipper is then accessed outside of your pack in a specific location.
(Note: a "zinger" is a retractable lanyard that you can attach your nippers to for more convenient use.)
You never have to think about it–your nippers are always in the same spot. It's another nice touch that I really appreciate.
Here's a picture to show you what I mean.
Front Zippered Pocket
Another beautiful design is the zippered front pocket.
I've found it to be a super useful spot to store both my floatant and my dessicant. Once again, super convenient.
Speaking of floatant, don't miss my popular article showcasing my favorite fly floatant and how to use it.
Net Storage Slot
People have their own preferences when it comes to how to carry a net, but Orvis' Guide pack has a built-in net storage slot. Personally, I don't actually use it because I like my net hanging on a retractable cord near my hands, but it's a nice feature nonetheless.
Here's a picture of the spot where you insert your net, handle side down. This opening is on top of the pack, in case that wasn't obvious.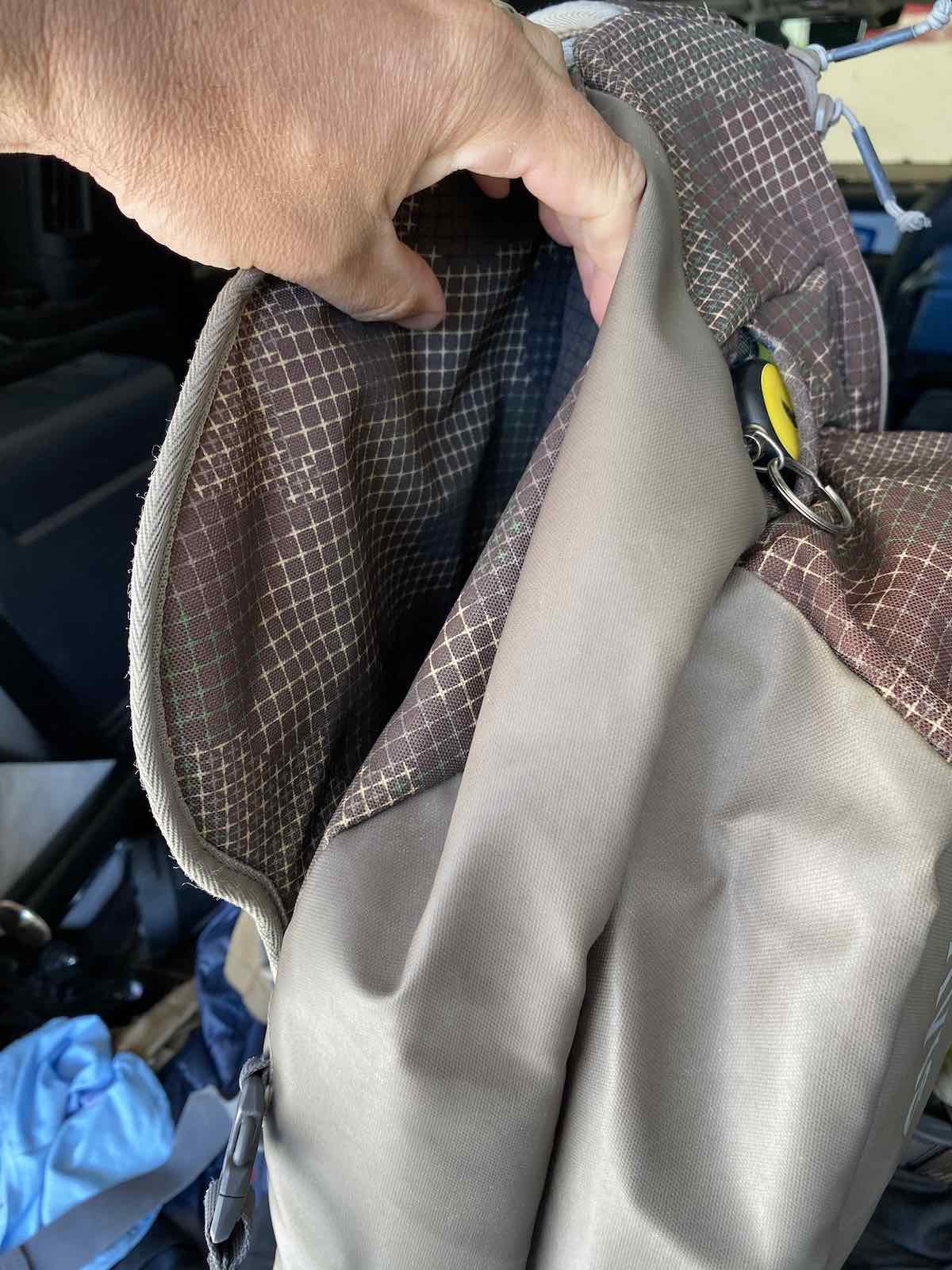 Easy Access and Fly Rod Holder
Let's say you're fly fishing on a river and you decide to change flies. What do you do with your rod?
Some anglers squeeze it between their arm and side, others use a rod holder attachment (which I've always found to be clunky/gimmicky), or if you're near the shoreline you can set it against a bush or tree.
The beauty of this slingpack is that you can swing your pack around and simply lay your rod across the pack while you access the pockets, nippers, tippet bar, and whatever else. It's fantastic, and one of my favorite features.
You might be wondering, "Well, can't you do that with any pack?"
The simple answer is no. Some packs ride too high, so your rod is in the way. Some packs don't have a flat section once it's swung around to your chest, so your rod just slides or rolls off. Some packs are too slim, etc.
Here's a picture of how I use it. Can you see how nicely my fly rod lays across the pack? I then have unabated use of both my hands and arms.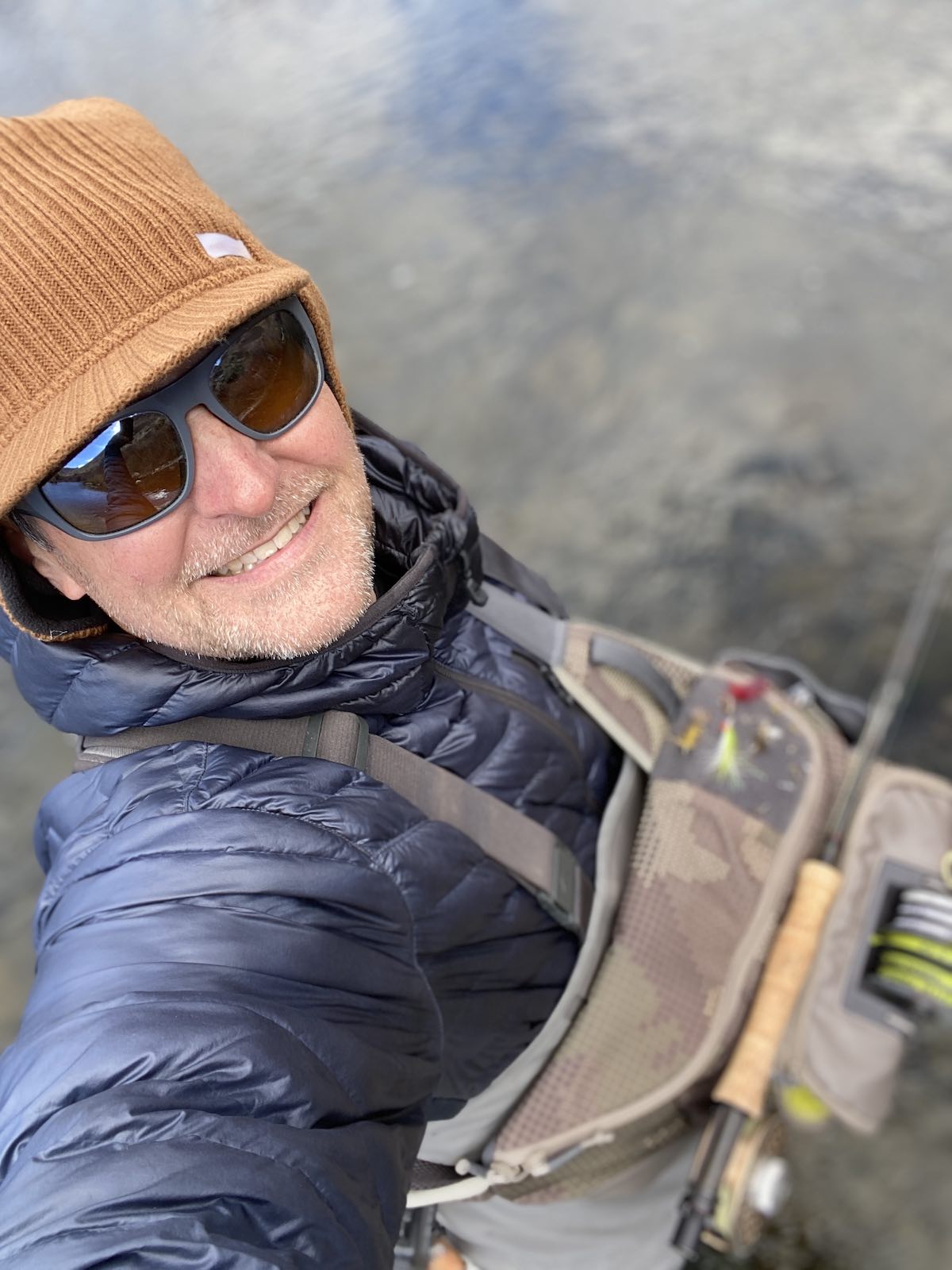 Here's another perspective for you. Notice how I still have full access to literally everything on my pack.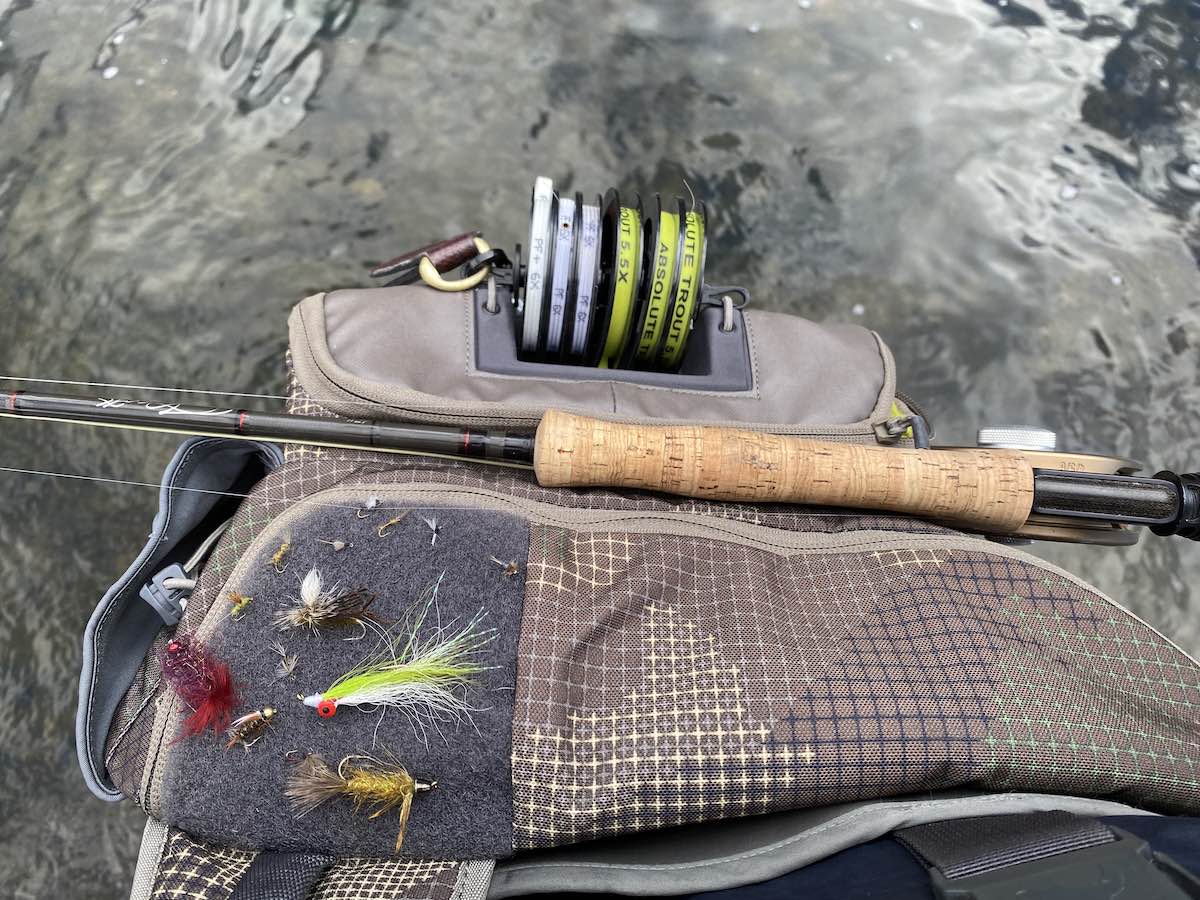 Fly Patch
You'd be surprised how many fly fishing slingpacks/backpacks don't have a fly patch. This is bizarre in my opinion, because it's so utterly useful. 
A fly patch, for those of you who aren't familiar, is a section of velcro-looking material that you can use to store the flies you may or may not need quick access to that day or in the near future.
Here's a picture of the fly patch on my pack.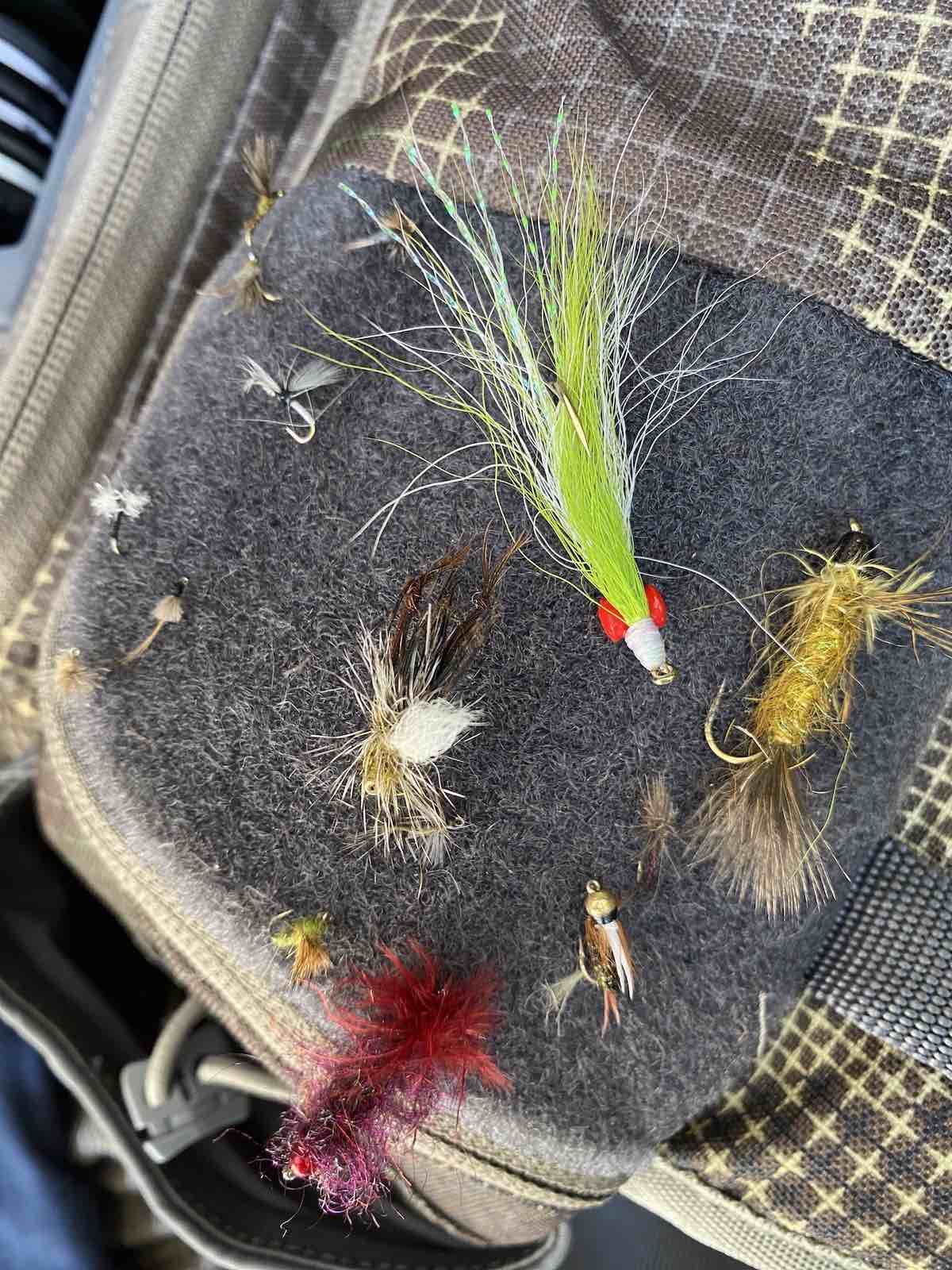 Drink Pocket
The last feature I'll mention, which is still one I appreciate, is a drink holder. Technically it's a pocket that can hold your drink, and it's located on the bottom of the pack. There's a lanyard you can use to tighten the opening so your drink is secure.
Here's a picture from my pack.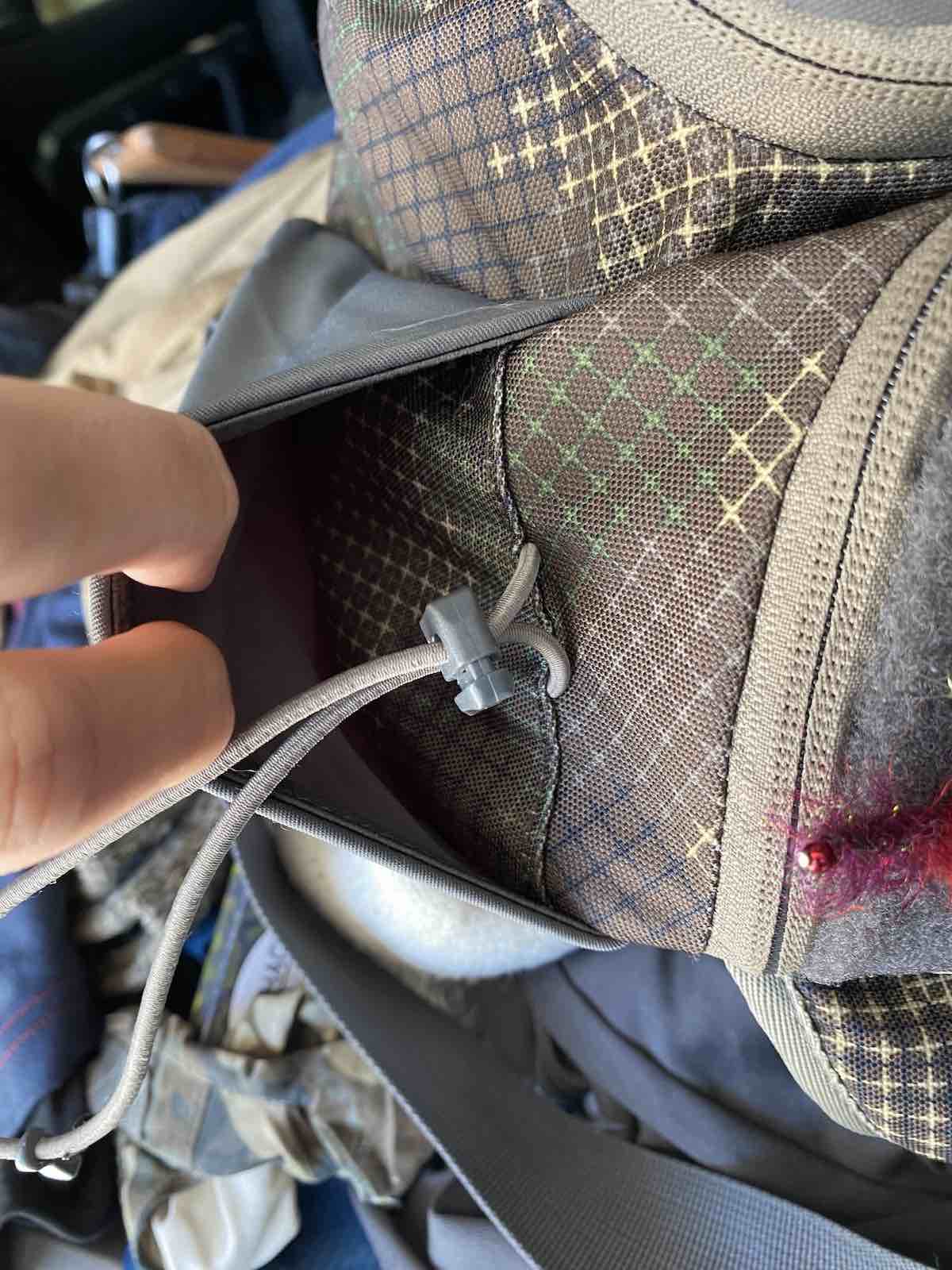 Designed for Righties
If you're right-handed (and around 90% of the population is), then the designers of this pack had you in mind.
Specifically, the strap slings over your left shoulder. This frees-up your right shoulder so that it isn't impeded during a cast.
Inside the Pack
The Orvis Guide slingpack can hold a lot of gear. In fact, I rarely fill it up completely. Plenty of smart pockets and zippered compartments to help you organize your leaders, etc. It's just really well designed.
Technically the volume it can hold is measured to be 18 liters. The dimensions are 18.5″ x 12.5″ x 7.5″.
Since that's probably challenging to visualize, here's a picture of the inside compartments.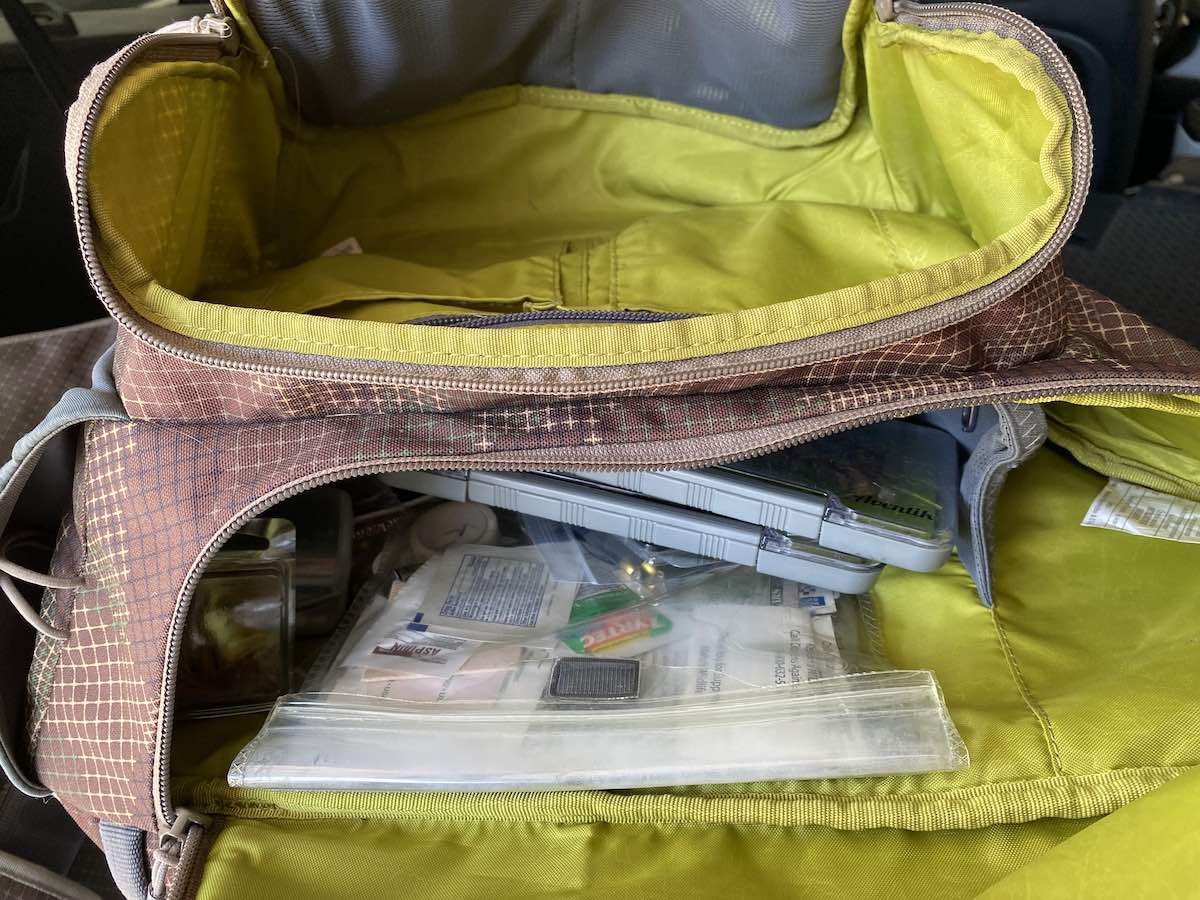 Improvements?
While it's (by far) the best slingpack I've ever had the pleasure of using, is there anything that I'd suggest be improved?
Only two things, and they're relatively minor.
Firstly, I'm not a fan of zippers that go around corners. Many (if not most) slingpacks have zippered corners, and I realize it's not the end of the world, but it can be frustrating especially if you're trying to unzip or re-zip with one hand. If you don't know what I mean, try it.
Here's a picture to show you what I mean.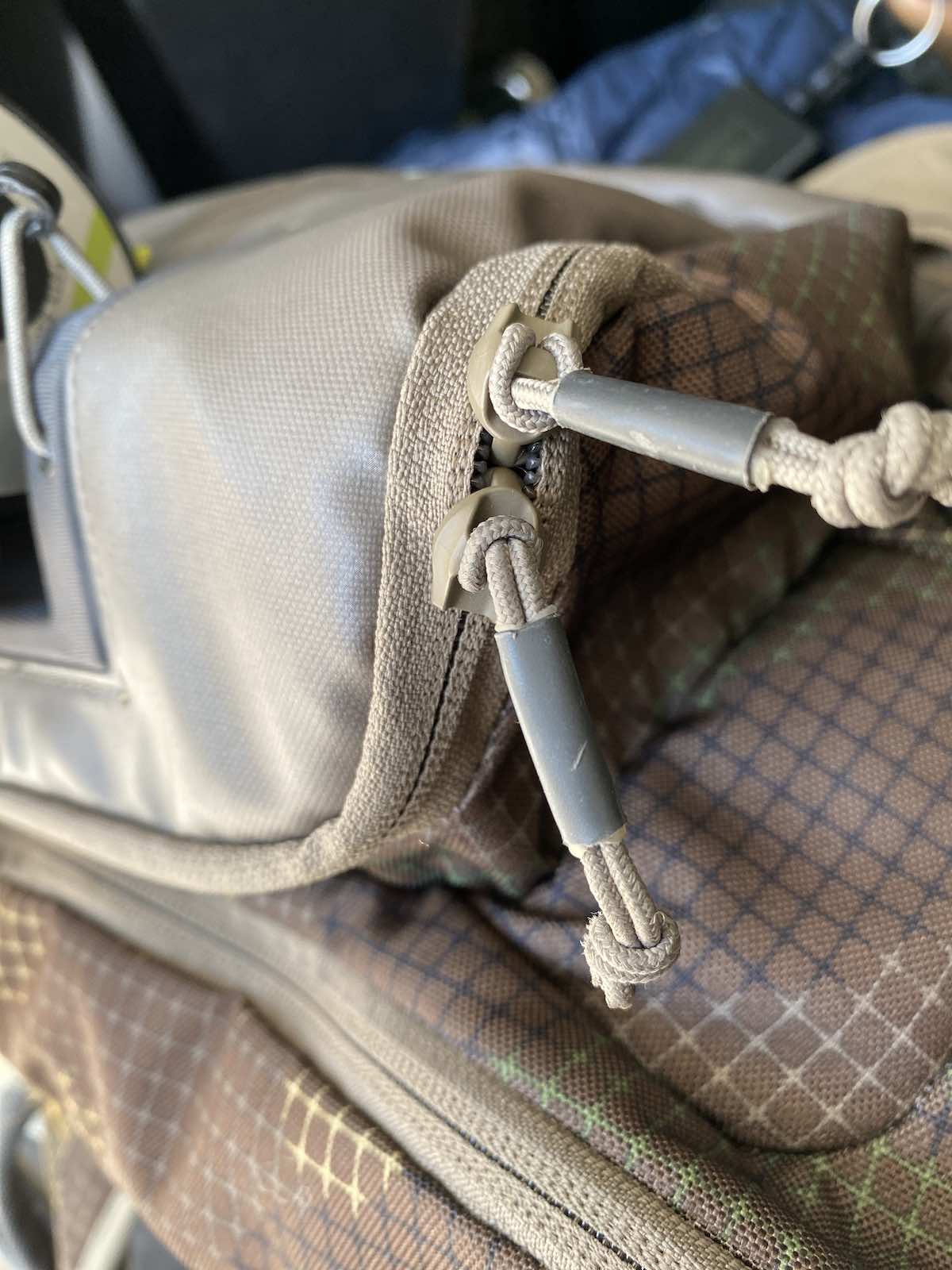 Secondly, this pack isn't waterproof. 
While that's not a huge issue unless you're wading deep regularly, it would be nice if the bottom three inches or so was coated with a waterproof material.
That's it–those are the only two improvements I can suggest. To put that into perspective, I have fishing packs that genuinely make me wonder if the designers did any product testing whatsoever. It's like they were designed on a computer and then sent directly to production.
Two Versions of this Pack
Imagine the serendipity when I discovered that Orvis had made two versions of this slingpack.
The pack I've been describing–the one I assign the title of "best" to–is the Orvis Guide slingpack.
But, there's also a slightly smaller version simply called the Orvis Slingpack.
In the below section, I'll explain to you the differences, which are minor but important.
Orvis Guide Pack vs Regular Pack
Just to reiterate, there are two versions of this slingpack: the "Guide" slingpack, and the slingpack. They look nearly identical, but there are differences which I'll explain below.
The guide pack has 64% more storage (18 liter capacity vs. 11 liter capacity).
The guide pack has larger dimensions (18.5″ x 12.5″ x 7.5″ vs. 17″ x 9.75″ x 6.5″).
The non-guide pack doesn't have the zippered front pocket on the strap that goes across your chest.
The non-guide pack doesn't have a compartment to hold your net.
So, to summarize, the "guide" pack is larger, has a slot for your net, and has a front zippered pocket. The standard pack (non-guide) is smaller, has no net slot, and has no zippered front pocket.
Which do I prefer?
I own both, and I think they're both fantastic.
I use the "guide" slingpack when I need to hold more gear, and I use the non-guide slingpack when I won't be far from my vehicle and don't need to carry much gear.
Since I don't use the built-in net holder, the only feature I actually miss when I use the non-guide pack is the front zippered pocket where I keep floatant and dessicant. But, I then just use the front pocket on my chest waders to hold these items. No big deal either way.
I highly recommend both of these packs to you. You can't go wrong with either one.
Here's a picture showing the front strap of each pack–the Guide version on the right, and the non-guide version on the left.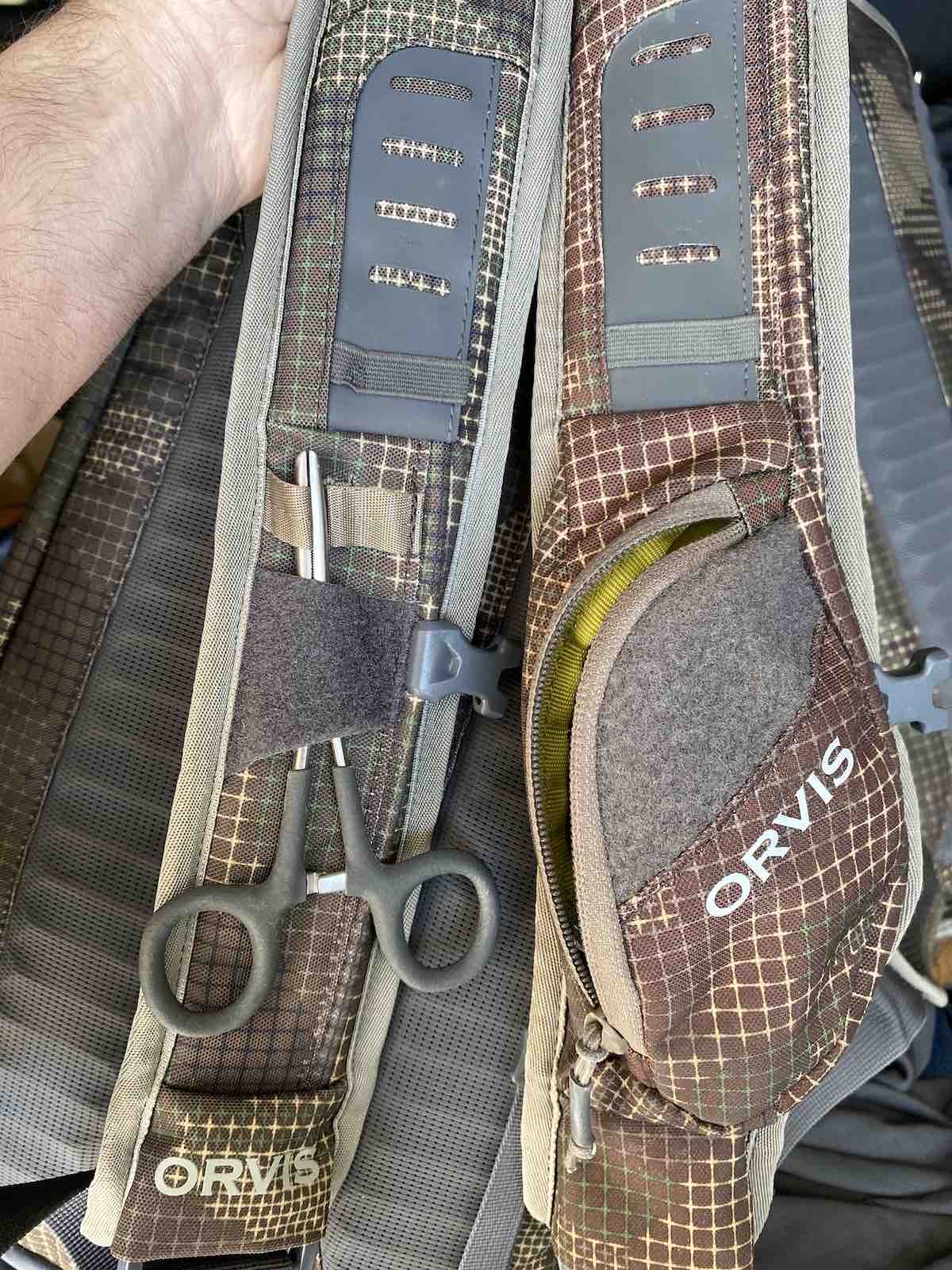 Below is a picture I took showing the size difference between the two slingpacks, with the guide version on the left, and the non-guide version on the right.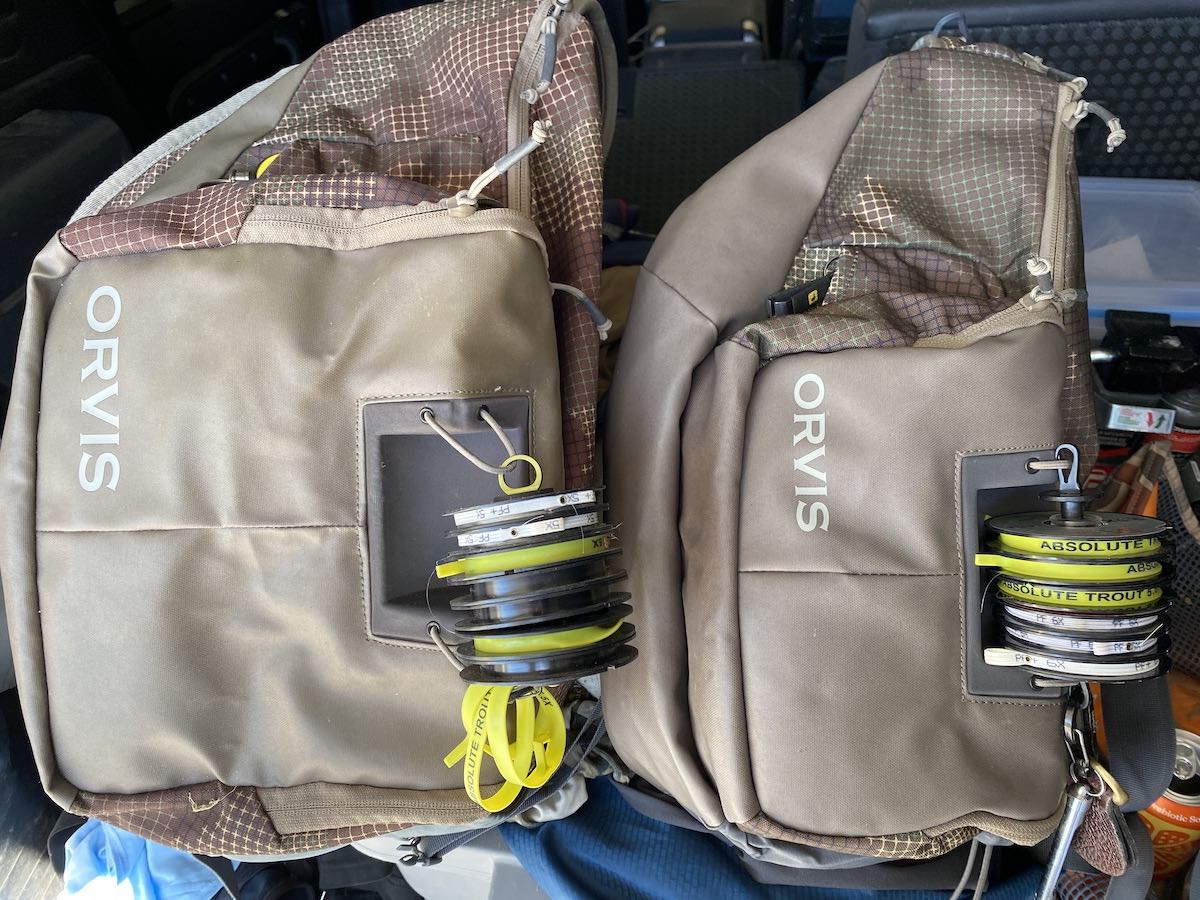 If you decide you'd like to buy one of these packs and you purchase through one of the links in this article, I'll receive a small commission at no extra cost to you, which I sure appreciate. If you end up buying something after reading my article, please send me an e-mail so I can thank you.
If you're interested in the Orvis guide slingpack, you can check out pricing on the Orvis website.
If you're more interested in buying the non-guide (smaller) slingpack, you can check out pricing on this page of the Orvis website or on this page on Amazon.
Reviews of other slingpacks
I've used quite a few fly fishing slingpacks, backpacks, and waist packs over the years. Some I still have, and some I don't. I gave them each a thorough workout, taking each one out for 10-15 outings.
Here are a few brief reviews I put together.
Filson Dry Slingpack
It's a sharp looking pack, and well made. Totally waterproof, even the zippers. But I didn't appreciate the inside of the pack being completely bare, other than a small pocket with a zipper where you could put your fishing license or a few packs of leaders.
Other than that, the inside is a cavernous space where everything you pack just settles into a big heap. The zippers are heavy duty, which is nice, but they don't slide easily (it comes with lubracant for the zipper).
It also doesn't have a stabilizing strap which means it rides a bit uncomfortably on my back–sort of like I wasn't balanced and my body had to compensate.
I wanted to like this minimalist pack, but I couldn't. I grade it a C-. If you're a big fan of Filson, you can check out this pack on Amazon.
Simms Dry Creek Z Sling
I'd review this slingpack similarly to the one from Filson, despite it having a slightly better organizational layout. But again, the inside is just one big compartment. Not my cup of tea, but to each his own.
It has a slot for your net, but if you use a slightly larger net like I do, it'll overpower this small pack and things quickly become unbalanced.
How this pack won an IFTD Best of Show award is a mystery to me. (IFTD stands for International Fly Tackle Dealer.) I now disregard this supposed seal of approval.
It's waterproof, and much more comfortable to wear than the Filson pack. It always felt secure and balanced on my back. But, at the end of the day, I give it a C.
If you're so inclined, you can check it out on this page of the Simms website.
Orvis Mini Slingpack
I always liked this compact pack for shorter outings, where I wouldn't be too far from my vehicle. It doesn't have a lot of storage, but the storage it does have is organized. It was very comfortable to wear too.
This pack gets an A-. You can buy it on this page of the Orvis website or on this page at Amazon.
Simms Freestone Backpack
While this isn't a slingpack, I do appreciate it on longer outings (35 liter capacity). If I'm hiking far from my vehicle, and packing lunch and some extra gear, this works well. Lots of pockets for organization too.
It's well balanced a feels good when you're strapped-in. It's got a rigid spine and great lower back support that makes a surprising difference.
For long distance outings, this is a great pack. I give it an A-.
Simms Tributary Hip Pack
I'll use this very occasionally when I'm travelling ultra light. There's room for a couple fly boxes, floatant, dessicant, nippers, leaders, and that's about it. Just the essentials.
As far as waist packs go, I don't see how it could reasonably be improved upon. I give it an A. You can buy it on this page of the Simms website or on Amazon here.
Here are some pictures of the above packs in my garage.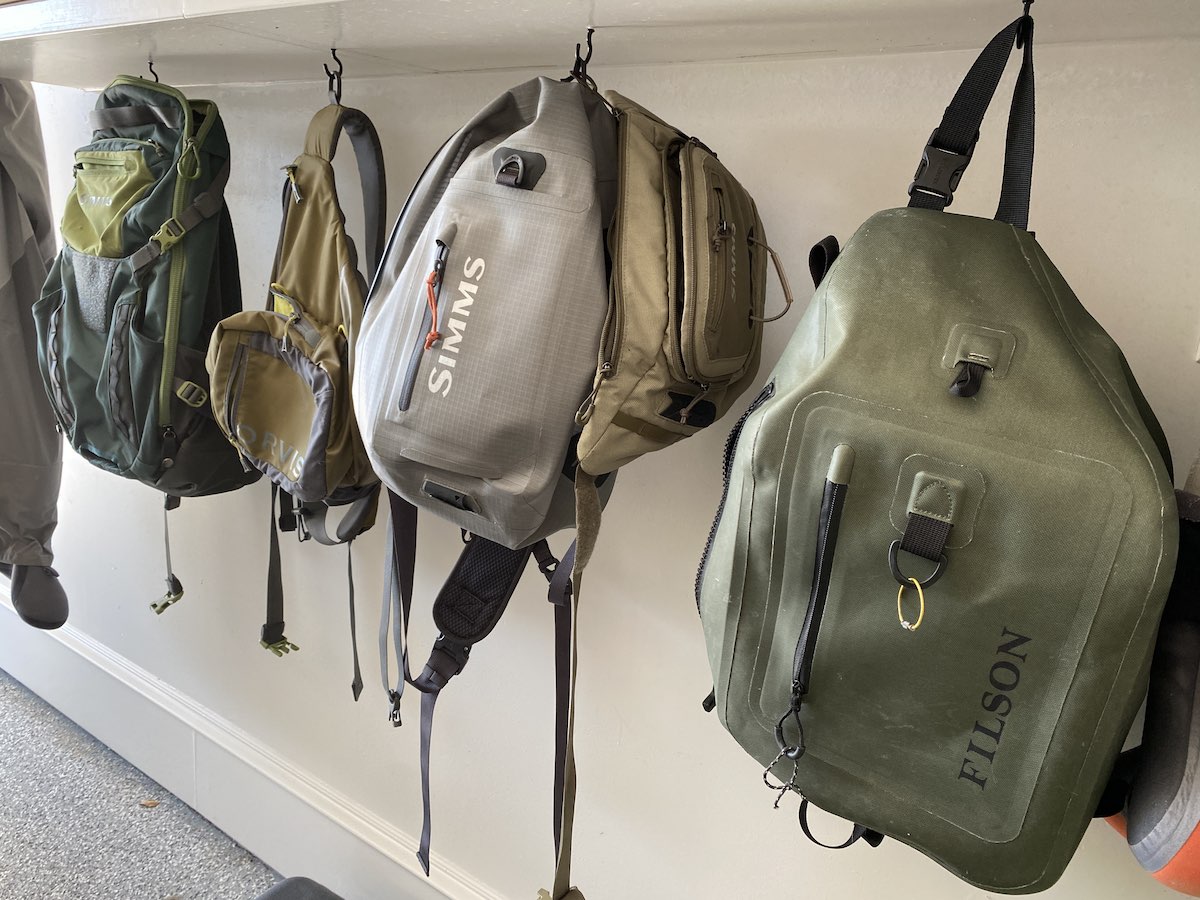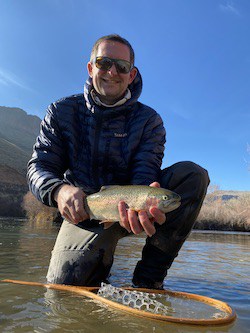 About the Author
My name's Sam and I'm a fly fishing enthusiast just like you. I get out onto the water 80+ times each year, whether it's blazing hot or snow is falling. I enjoy chasing everything from brown trout to carp, and exploring new waters is something I savor. My goal is to discover something new each time I hit the water. Along those lines, I record everything I learn in my fly fishing journal so I can share it with you.