The Best Fly Fishing Podcasts
November 5th, 2022
At last count, there are 51 fly fishing-related podcasts in existence. Some start out strong and quickly fade, others are mediocre and continue grinding year after year. How can you quickly find out which ones are the best?
I've listened to thousands of hours of fishing podcasts over the years, and can easily give you a list of the most productive and entertaining shows, which I'll do in the below article.
Without further ado, here's my list of the five best fly fishing podcasts in the world.
#5 – Wet Fly Swing Podcast
The host, Dave, is all-in when it comes to fly fishing. He learned fly angling in his early years, and his enthusiasm comes through in his podcast. While he's still relatively young, his experience is deep and he speaks the lingo.
Not only does Dave have interesting guests, some of which are very well known in the industry (think Larry Dahlberg), but he asks thoughtful questions and has an easy demeanor.
He's currently in season seven and has produced 370 podcasts as of today, which is of course insane. Most episodes are an hour to an hour and a half.
Once in a while he'll go outside the lines and will produce an episode on hunting, but the rest are comprised of fly fishing.
He's got a very informative and well organized website, and keeps up on all the major social media platforms.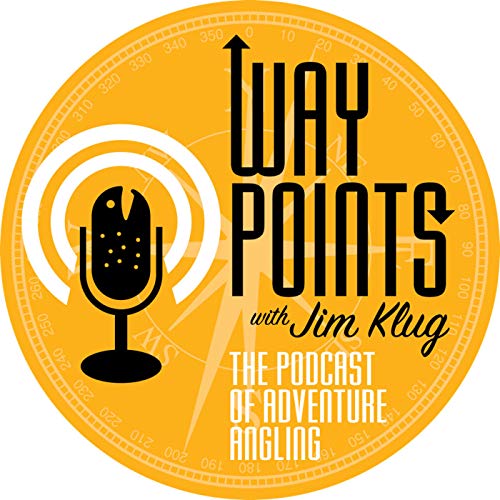 #4 – Waypoints Podcast with Jim Klug
The subtitle of this podcast is, "The podcast of Adventure Angling." The reason is, it's all about fly fishing the world.
Jim Klug started Yellow Dog Fly Fishing, which is a company that specializes in destination travel. So, if you want to cast a fly in Mongolia, you can visit their site and read about the guide services they recommend, costs, what to bring, what to expect, and more.  I appreciate that they actually hire the fly guides and stay at the lodges before considering them for the website.
With that said, their podcast dovetails nicely with their business, in that you can listen to in-depth conversations about fly fishing in Costa Rica, Russia, Australia, you name it. They also cover many spots in the United States–it's not just international.
Not only are the adventurous conversations fun to listen to, but personally, I find them invaluable when I'm planning fishing trips.
Each podcast runs around an hour, give or take. There are 44 published episodes as of today.
#3 – Permit to Think
Produced by Mike Dawes, this podcast is pure. That is to say, it's real and unfiltered. He'll tell it like it is.
Personally, I enjoy the conversational tone, and the repoire he has with his guests, which include Jeff Currier. It often sounds like you're eavesdropping on a discussion between two advanced anglers.
Mike's got a 30-year history in the fly fishing world, and it's clear he walks the walk.
He's an accomplished permit angler, but his roots are in fly fishing for trout in mountain rivers.
This is the "youngest" podcast on my list, as he's only on his 20th episode as of today. But, my intuition says he's going to stick with it.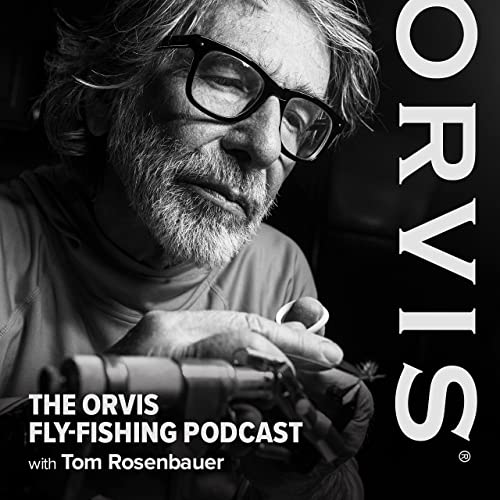 #2 – The Orvis Fly Fishing Podcast
Tom Rosenbauer is synonymous with Orvis–he's worked there for several decades and has become the face of the company. For his sake, I hope he retires soon and spends his days out on the water, instead of in a cubicle.
Tom's been fly fishing for 50 years, and that means he's learned a lot. I've come to respect his experience and knowledge. He'll even go so far as to respectfully disagree with his guests occasionally–I appreciate that type of candidness.
Unfortunately, this podcast has been getting a bit woke lately. I recently heard him stop a guest mid-sentence and say that he (Tom) avoids the term "fly fisherman" and would prefer the guest use "fly angler" or "fly fisher" because it was more inclusive. It was cringeworthy.
Tom also mentioned that Orvis recently began a department of inclusiveness and diversity, and he regularly derides "old, white fly fishermen" in very negative terms.
Political correctness aside, it's a very informative podcast. My favorite snippet is what Tom calls "The Flybox." It's a section of each episode where he answers listener questions, and it usually lasts anywhere from 30 to 45 minutes. Episodes usually run around 90 minutes.
Tom's been running this podcast for over a decade, and you can find episodes back to 2015 on the standard platforms, but I discovered that you can listen to older episodes if you go onto the Orvis website.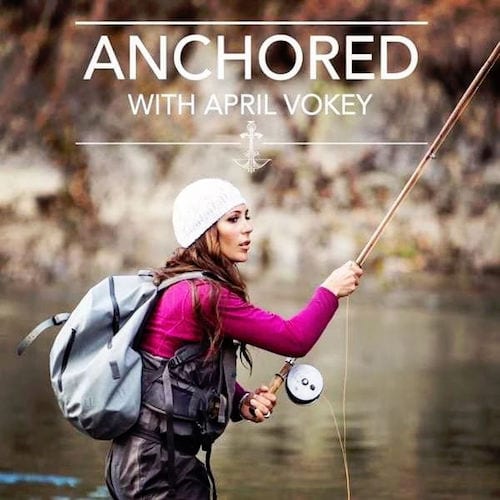 #1 – Anchored Podcast with April Vokey
In my opinion, the best fly fishing podcast out there is Anchored with April Vokey.
What strikes me about her interviews is her insightful questions. I can't tell you how many times she's asked the exact question I had on my mind. Many podcast interviewers will let a guest go on-and-on without interruption, but April will jump in and ask specific and timely questions.
She also regularly features female fly anglers and guides on her episodes, and I find it embarrassing how infrequently this occurs on other podcasts, with the exception of the Orvis show.
She's not obsequious in the slightest, and is very authentic.
April has landed some of the most sought-after guests in the industry–two of my favorite podcast episodes ever were her conversations with Larry Dahlberg and Kelly Galloup.
She's got episodes going all the way back to the beginning of 2015, each of which runs around 90 minutes.
Originally an accomplished fly guide in British Colombia, she now lives in Australia.
Don't miss this podcast.
Fly Fishing Podcasts to Avoid
The DrakeCast
This podcast seems to be on several outdated "top podcast" lists, but it's been defunct for years.
They produced one episode in 2022, four in 2021, zero in 2020, four in 2019…you get the picture.
Some of the older content is evergreen, but I personally found the host to be insufferable.
Ask About Fly Fishing
This podcast actually has some great information and quality guests, and the host seems like a good guy, but the audio quality is often very subpar making it difficult to grind through most episodes.
Maybe it's just me?
How to Find and Listen
If you click here, you can find a list of all the readily available fly fishing podcasts.
If you have an iPhone or Android, you've got several options for actually listening to these podcasts. The most popular apps include:
Apple podcasts
Spotify
Google podcasts
I Heart Radio
Each of these apps has a search function where you can quickly find any podcast by name.
PRO TIP: You can also search for specific names or words, such as "Kelly Galloup" or "Steelhead fishing."
For example, if you searched for "Kelly Galloup," it might pull-up six episodes on six different podcasts, allowing you to listen to any or all of them.
Other Fly Fishing Media
I read a lot of books about fly angling, namely non-fiction and reference. After having gone through several shelves worth, I put together a list of the best fly fishing books and the best fly fishing authors. I think you'll find them both worth checking out.
These lists are regularly updated whenever I come across something worth adding.
Summary
I spend a lot of time listening to podcasts about fly fishing, and while all are well intentioned, most fall short on one or several levels. This can be due to too little experience, less accomplished guests, lack of consistent publishing, or subpar interviewing skills.
In order to help make your listening time as productive as possible, the above rankings I've put together should provide you with an almost incomprehensible amount of hugely useful information and entertainment.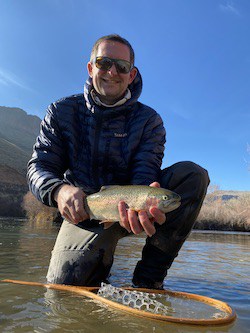 About the Author
My name's Sam and I'm a fly fishing enthusiast just like you. I get out onto the water 80+ times each year, whether it's blazing hot or snow is falling. I enjoy chasing everything from brown trout to carp, and exploring new waters is something I savor. My goal is to discover something new each time I hit the water. Along those lines, I record everything I learn in my fly fishing journal so I can share it with you.